Introducing the T40 II Rattler™ Portable Single Gas Detector
The T40 II Rattler is a compact, lightweight, and robust Portable Single Gas Detector that protects you in hazardous areas under tough conditions. Built to Industrial Scientific's highest quality and reliability standards the T40 II Rattler measures CO or H2S quickly and precisely with high resolution and multiple available selections of the detection range. Equipped with ultra-fast sensor response times and replaceable battery with two-years durability also ensures reliability during safe operation.
The T40 II Rattler Detector has two pre-set alarms, TWA and STEL, which are user adjustable. Each version is also equipped with visual, audible, and vibration alarms as standard, with Always-On functionality granted by excellent battery capabilities and power management.
Each T40 II Rattler Detector is impact, dust, and water resistant with an IP-66/68 dual rating. The T40 II Rattler Detector is safe for use in hazardous locations, classified as intrinsically safe, ATEX/IECEx and by CSA to U.S.A and Canadian standards.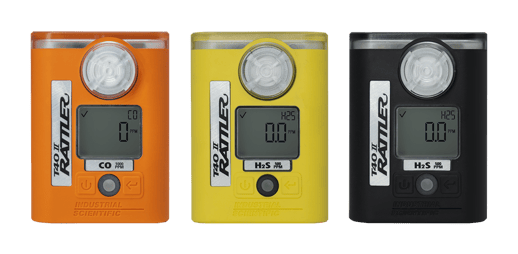 Key Product Specs:
​Robust, compact, and light (85g)




Fast sensor response, T90 is less than 10s

IP66/68 dual rating

Multiple sensor range options with high accuracy:




CO (0-1000/2000ppm)




H2S (0-100/200/500ppm)

Replaceable battery with two-year runtime